Museum Garden

The garden of the Blaskovich Museum in Tápiószele represents a special value among the mansion gardens in the early-20th century, it is an outstanding sample.
Planning and realizing the mansion garden of Tápiószele was started by the Blaskovich brothers round 1915 who entrusted the main gardener of the capital city Budapest, Ágoston Blazsek with the implementation.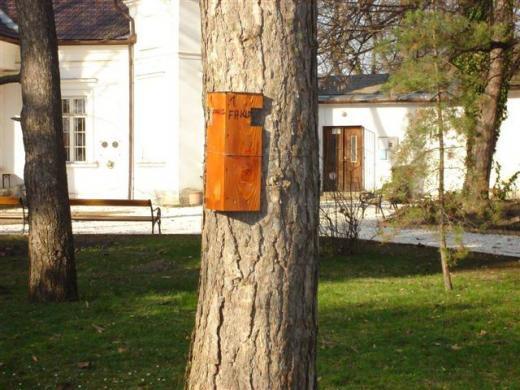 The botanically interesting garden surrounding the mansion is 1.4 Hectars today. The garden having the character of an English park is disclosed by curving walks, broken off by breathing spaces. Among the trees there are plane, oak, elm, pine, linden, horse-chestnut, maple trees, under them bushes, on the ground violets, lilies of the valley are growing. Most of the trees and bushes in the park are as old as the mansion itself, which was bought by the family in 1911. Its bird population is extremely rich. From 2011 it has born the title Bird-friendly Garden, bacuse it has joined in the bird-friendly programme of the Hungarian Ornithological Association by means of the civil society of the museum.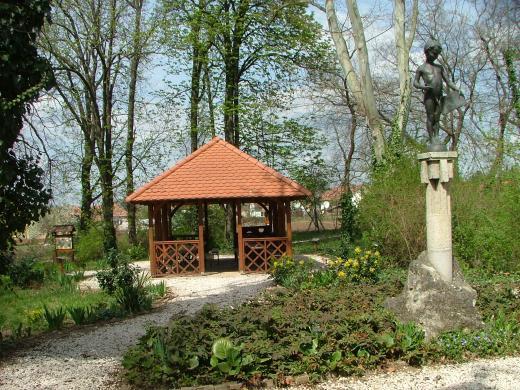 On the grassy and bushy area between the main entrance and the main building a circular park with a rock garden, a rose garden and a green frith was arranged by the owners
The park – just like the 19th century furniture – is a nice mirror of the Hungarian noble lifestyle, an outstanding sample of the mansion gardens in the early-20th century. The historical value of the the park and building collective lies in the fact that in Hungary the flats of this social layer, the furniture of the noble mansions were not preserved – these were practically carried away during the Second World War – and thus the surroundings of the buildings were ruined.

As the garden architectural plan made in 1915 survived in one piece, the original garden structure could be recontructed.
The reconstrucion work of the garden started in 2010 and finished in 2011. It was realized in the frame of the tender Operative Programme of Central Hungary, preservation and reconstruction of collective gardens and protected historical gardens. In order to preserve the style notes of the garden having the character of an English park, plants were installed, and walks, nature trails, interactive toys were established, which help the visitors obtain more information, and they bring closer them to the environmental awearness and the preservation of the relics of old times.
The park of the museum was pronounced protected area of local importance in 2009 by the Self-Government of Tápiószele, later the whole area of the contemporary Blaskovich mansion garden was pronounced protected by the Bureau of Cultural Heritage in 2010.